Bondage has been evident in history for centuries, becoming widely recognised and practised in the 1970s as part of a sexual subculture. Physical restriction and confinement alongside other aspects of fetish is not simply a matter of producing a sexual thrill. The condition of bondage also lends itself to an endorphin loaded release and can create heightened and almost spiritual states of relaxation and mental expansion. It's been suggested that it can induce a form of meditation. Apparently, those of us lucky enough to appreciate its charms have better mental health! For many of its fans, it also embraces a submissive desire. An enjoyment of being captive and owned in the context of a slave or subservient. It represents an opportunity to revel in the delights of having control taken away and replaced with the demands of a dominant.
Bondage with Mistress Sheba
Come and discover the realm of Mistress Sheba. Rest assured that whatever the means of enslavement and subjugation you crave, I deliver with deviant finesse for the curious bondage virgin or the more extreme fanatic. My dungeon contains state of the art equipment to make your every bondage fantasy a reality.
For those who enjoy the more sensuous approach, I can play the sensitive tease. Slowly bringing you under my erotic spell. Restricting your mobility with a succession of skilfully tied ropes or artfully placed cuffs. I will render you fully helpless and vulnerable as you await the swish and soft kiss of a suede flogger. Bondage is a key element during my sessions. It's very much a base component upon which other kink is layered because it affords me total autonomy over your pleasure. Sometimes, I'll reward your subservience and patience with a burst of pleasure. However, if I'm feeling at my most darkly perverse, I'll take pleasure in denying you what you most crave.
Mummification and sensory deprivation
If your predilection lies in more immersive bondage, I also offer mummification. Enjoy the ritual of being slowly and seductively wrapped tightly from head to toe in Saran Wrap. I will make you my personal human chrysalis, encased in tightly bound shiny plastic film. Time slows down, your heartbeat feels like thunder as you succumb to the light touches of my fingernail as I follow the contours of your body. Or not. As with all activities, I remain the decisive influence regarding your pleasure. And, although you'll always be in safe hands, I cannot guarantee they will always be generous.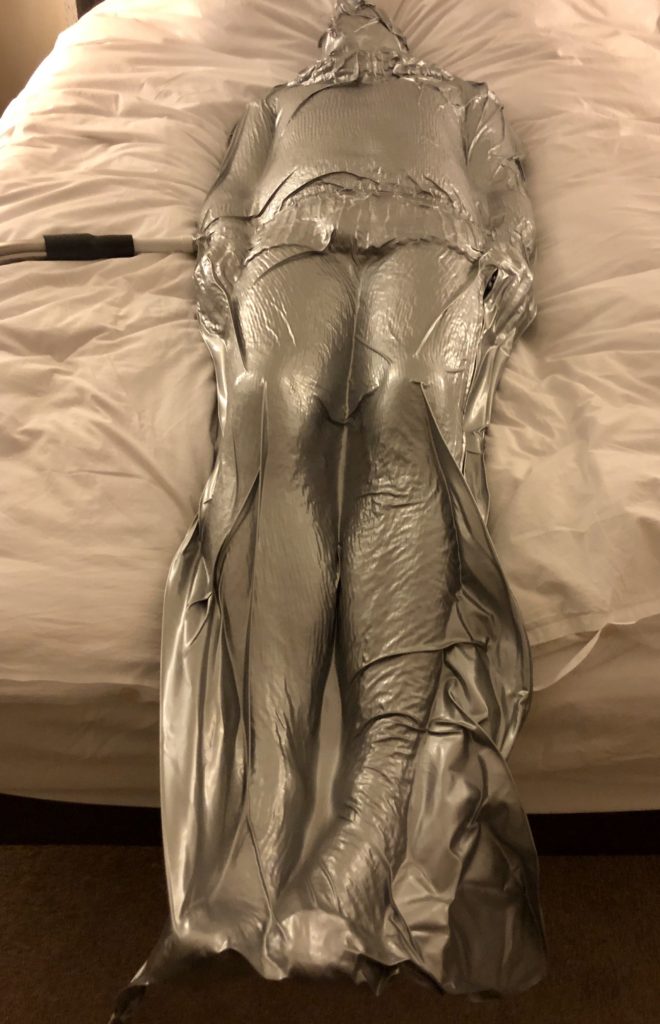 Many of my loyal, repeat clients enjoy my leather or heavy rubber body bags… perhaps teamed with one of my gas masks or a hood for a total enclosure experience, as an opportunity to enjoy breath play. I'm always open to new suggestions within this category. Bondage is an edgy practice that requires diligence and expertise but when you put your trust in me, I always put safety first. One of my personal passions is predicament bondage which affords all kinds of creative opportunities. And for me to channel my evils!
Are you ready to experience captivity under my control? What are you waiting for?