I invite true connoisseurs of the pleasures of podophilia to lay your fantasies at my beautiful feet.
Over my years as a professional Dominant, my understanding of the complex sexual triggers surrounding this form of adulation and worship equips me with the creative expertise and finesse to craft your foot fantasies. With many years of domination experience and natural insight in this area of fetish, I am a gifted and resourceful fetish practitioner who knows exactly how to convert your desires into blissful reality.
I appreciate that many men out there secretly harbour as-yet, unfulfilled longings, tainted with guilt perhaps and unsure of how to gain release. Within my care, even novices will discover the exquisite bliss of relinquishing that struggle under my guidance. Being a naturally sensual Dominatrix, these sessions create a bonded environment, a luxuriant capsule of worship time for both parties.
Of course, at the other end of the spectrum, are lifetime foot fetishists looking for a new "kick" – and I have just the feet to deliver that!
You've reached your foot worship destination
With Mistress Sheba as your foot worship destination, each session is bespoke and curated according to your unique longing. Should you crave an opportunity to spend your hours in reverent silence caressing my smoothly stockinged feet, I have a range of decadent hosiery to tempt and tickle. Personal clients are invited to peruse my collection of tights and stockings and select favourites but I'm also pleased to accept gifts of your particular taste.
Imagine the tremors in your hands, the catch in your throat with your widened eyes fixed on my slim, arched foot as I point my toes achingly slowly into the sheer tip of a black stocking, watching me peel its silky length up over my ankles, calves, then over knees up to my thighs. As well as the stimulation of the senses, my stocking sessions offer an opportunity to provide Mistress with some well-deserved foot massage after a long day on my feet, perhaps a soothing foot bath for Mistress first to cleanse my hot, sweaty feet before taking each one in the cup of your hand as your willing fingers await guided instruction.
Now Worship my Boots and Stiletto Heels
Now let's talk fabulous footwear. Like most ladies, I'm rather partial to the allure of sexy designer shoes and boots and I'm always delighted to have the chance to share my own personal collection. Included in my cache of mouthwatering styles in a variety of materials and colours… extreme heels and platforms, classic courts, open-toe sandals and of course, kinky thigh boots in glossy patent and leather. A lady can never own too many pairs and I invite my grateful clientele to buy new tributes to add to my wardrobe.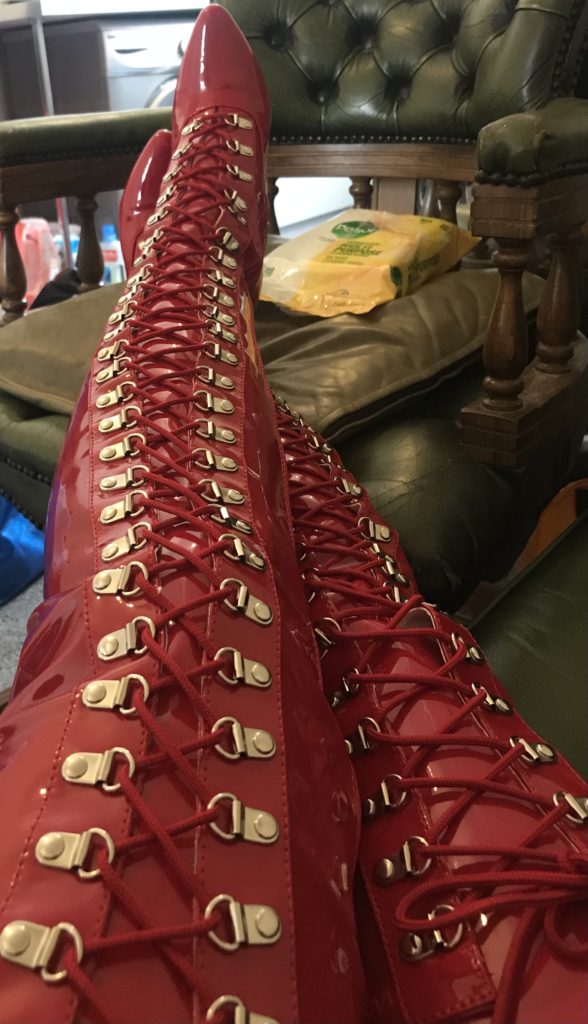 With me, Mistress Sheba, you'll find ultimate satisfaction encompassing all levels of curiosity in this fetish area. From the merely aesthetic visual rush that heels inspire – to a more interactive experience. For some, this may be as simple as watching me dress in your shoes of choice, helplessly restrained as my suppliant, whilst I strut, teeter and tease close to your desperate face. I particularly enjoy seeing my submissives drool through a ball gag as they writhe in bondage during a shoe worship session. So if this sounds like a scenario to savour, it can be yours!
Sweaty feet, smelly shoes
Moving on a notch, I also know how desperately many of you crave a well-worn, soiled shoe. So if you love the look and smell of a sweaty shoe inner, perhaps I will permit you to lie beneath me as I kick off my shoes and rub my hot, smelly toes into your nostrils.
My boots as your sex toy
For those who want to use shoes for ejaculation/insertion, perhaps you might like us to go shoe shopping? We'll find the perfect vessel for future sessions, you can enjoy the sight of Mistress trying on the shoes or boots of your dreams! Then we'll head back to my play space and put them to use.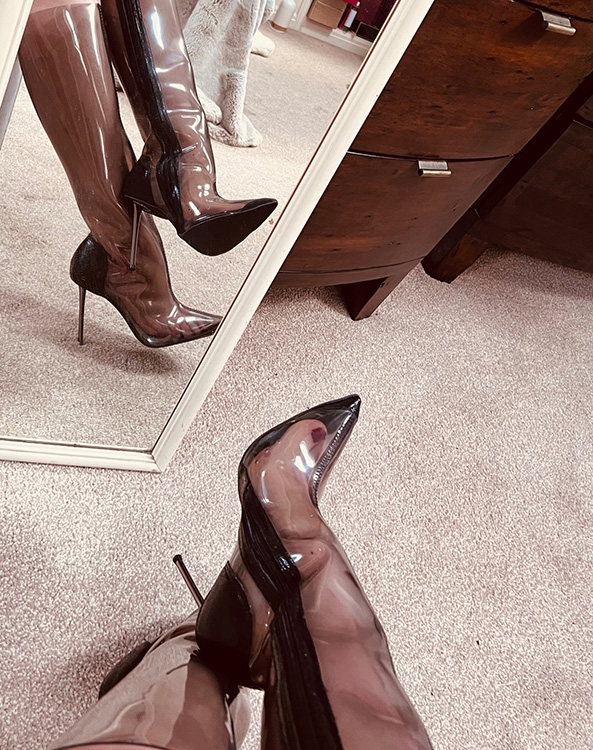 And last but not least here's a call out to all men who like playing hard… if this has caught your attention, perhaps the mix of heels and pain appeals? Take a moment to imagine My latex or leather-clad body, shiny thigh-high, stiletto boots ready to trample your vulnerable naked body, every muscle twitching as you await the point of my heels sinking into a crevice. I'm both experienced and cautious within this niche so your safety is always paramount.