Sensory Deprivation Sessions in Manchester
In this hectic age of personal stress, never has there been a better time to succumb to the delights of Sensory Deprivation. Even those who don't identify with fetish/kink can witness the quiet bliss afforded by a session in a flotation tank, whereby a quiet watery immersion can melt away everyday stress. Visiting Me at The House of Sheba is, naturally, a more expansive experience. Here I share the joys of precisely how I add My own deviant slant.
I invite prospective clients to visit My website and familiarise themselves with who I am Explore Here. I have exclusive and unique premises which have been carefully designed and stocked to create Session authenticity for every fantasy genre. The overwhelming impression you will have when you cross this threshold is one of luxury and finesse. I aim to inspire awe in all
Mistress Sheba's Private Members Playground… pic.twitter.com/ztE0GDe45D

— Manchester Mistress Sheba (@MistressSheba) July 9, 2022
I do. From the moment you put yourself in My hands, you set aside all distractions and background concerns. You become an object, a pawn in my intricate game of deviant chess.
Consultation
During our initial consultation, we will have discussed and agreed on pre-agreed terms and limits for your Sensory Deprivation Sessions. You may be assured that your safety is always paramount. However much I push your boundaries, the risk is balanced against desire. My position as an experienced Dominatrix equips Me with the skill base to determine how far we will go.
As regards your preferred setting, you will have access to a choice of room/rooms, depending on your Session time. Let me just present a reality that with Sensory Deprivation, MORE IS MORE. This fetish genre requires patience and slow principles of preparation. I require adequate time to unfold the depth of tranquillity and essence of My being during your quiet capture and rapture.
Location-wise, two of my most popular settings are The Red Room and The Grey Room. Both showcase a myriad of fetish equipment from the finest manufacturers including high-end installations by Fetters. Bondage is often a sought-after accent to Sensory Deprivation. With this in mind, you'll have a huge array of choices from cage to cross. Also available is a four-poster bed, and medical examination beds. Not forgetting the heavy rubber vacbed and cube.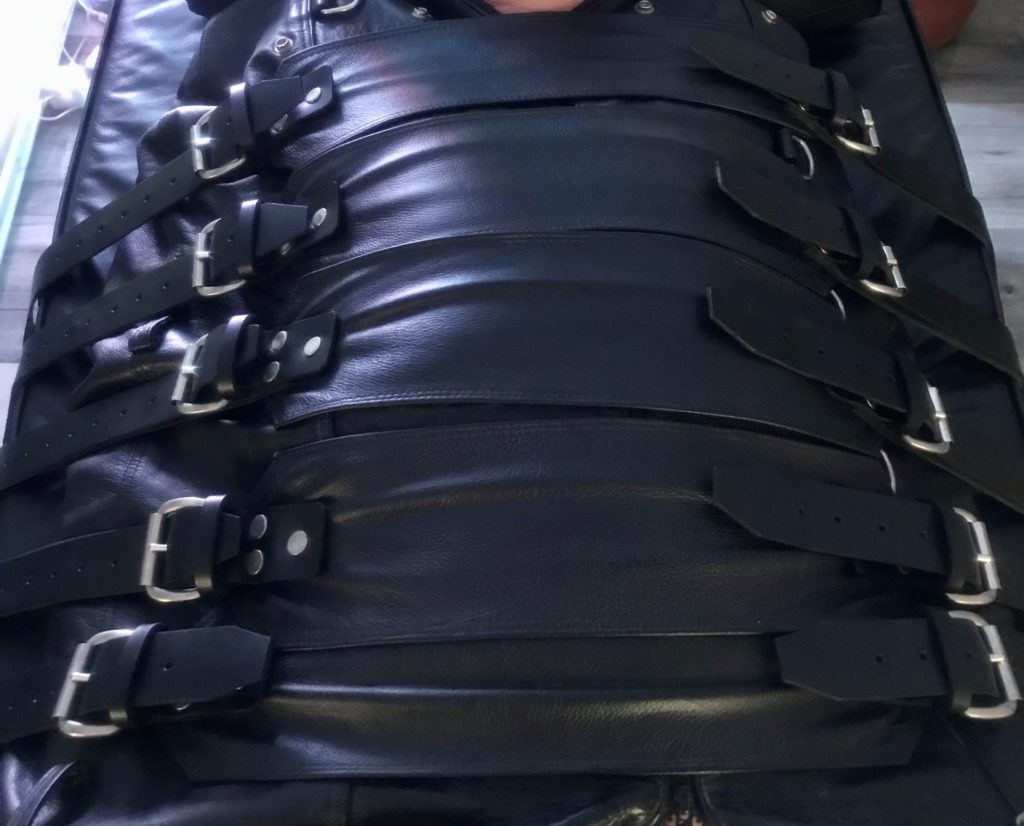 Sensory Deprivation wardrobe
Moving onto the specifics of the Sensory Deprivation wardrobe. I have an impressive collection of bondage hoods and body bags in latex and leather. As well as gags, gas masks, inflatables. The extraordinary mental and sensual journey you'll enjoy wrapped and trapped within my bonds will transcend all other sexual experiences.
Mummification
For those who favour a more intense, immersive experience, I can provide a wrap service to address the desire for mummification. This progressive ritual leads the recipient down a hypnotic trail with multiple opportunities for erotic stimulation. Will you succumb to being my personal chrysalis?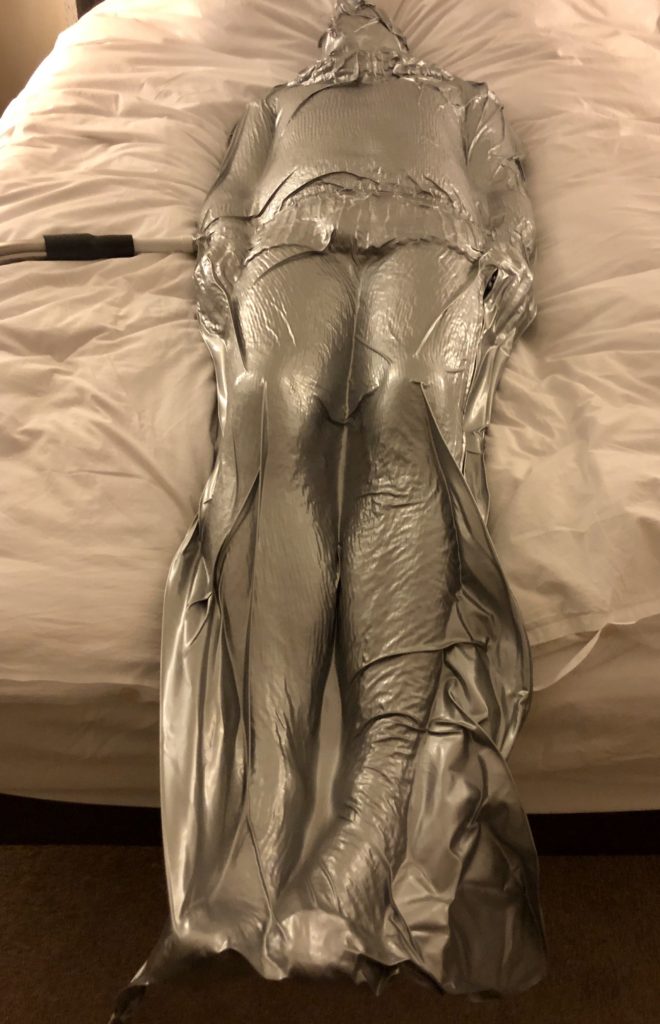 As the initiated will appreciate, Sensory Deprivation triggers a deeper sensual response. Once under My spell, without personal control, your feelings will be raw, primal and open to coercion which is just as I like it. Seeing you reduced to an empty puppet made for the pleasure of Mistress Sheba is My ultimate goal.