I wanted My blog on the popular subject of foot fetish to be informative as well as tempting. Foot fetish is an attraction to feet – considered niche but actually of all non-genital body parts, feet are the most coveted. Those with this predilection acknowledge that the foot is a beautiful gift. So much more than a mode of body transport or an anchor to the ground beneath them. When did they first become so revered?
Foot Fetish in History
Not only is foot worship prevalent now, but there's literary evidence of it throughout history. Originating from a series of brooding, obsessive "Love Letters" composed in the second century AD. Bisexual in orientation, they're addressed to women and male youths alike. In the 13C, according to the poetry of the time, the ideal Roman stereotype female foot was white, narrow with high arches and long straight toes coupled with large white moons on pink pale nail beds.
There is a neurological explanation behind the popularity of podophilia. It suggests that as feet and genitals occupy adjacent areas of the brain's somatosensory cortex, the areas of the brain that control genital pleasure and foot pleasure are close neighbours. Therefore leads to the belief there's some cross association between the two.
I find it fascinating listening to the stories of how this personal interest began – often during early youth. Do you know there's even a designated day for their appreciation? I Love My Feet day on August 17th. But in all honesty, we should celebrate them every day!
Let's now cut to the chase and chat about your future foot fetish fun with Me.
As a premiere Dominatrix, I cater for every whim and quirk. Nothing shocks Me. I'm always open to a frank discussion with respect to the specifics of your pedal pleasure source. This dialogue is very important as it provides the opportunity to understand the nuances that hold appeal for you personally, both aesthetic and physiological.
Mistress Sheba provides a memorable foot fetish experience for all inclinations. Curious novices through to the hardcore who get off on a good trampling (more of that later) are all welcome.
Foot Fetish Newbies
Let's start with the newbies out there; you've awoken to the realisation that feet tickle away at your mind sexually… maybe you've entertained long-held fantasies on your knees cupping a beautifully soft foot. Imagine the joy and release of being allowed to discover your fetish with an experienced Dominant. Picture being so close to My feet you can feel their warmth radiating heat as you anoint them with glistening essential oil. You feel the ecstasy as your deft fingers cover every curve and indentation. If your touch particularly pleases me, maybe I'll permit your lips to touch my toes, as you kiss them. One by one, breathing deeply as you inhale their natural perfume.
Foot Domination
At the other end of the spectrum, if you're one of those dirty boys aching to be force-fed a mouth of stinky feet after Mistress has come back from a gruelling day of retail therapy, I'm happy to accommodate your filthy habits. You will be waiting for me in chastity to return with my purchases and as you hear my entrance and the "click-clack" of my heels. Mistress wastes no time positioning herself comfortably in Her seat. She kicks off her shoes and orders you to open wide and enjoy a mouth full of tired, sweaty feet. As you use your tongue to bathe them clean, I'll tease you with photos of my "try-on" shoes in my favourite designer stores as I push my feet deeper against your gag reflex.
Foot fetish represents a chance for so much imagination. I've had clients who enjoy a bonus treat of anal penetration with a long slim heel as they bend over at the end of a worship session. I can't deny the pleasure it gives Me, watching a willing sphincter open up to take the full length of a beautiful stiletto as I rock my foot back and forth watching your cock harden as I coax you to climax.
Trampling
Trampling is one of my favourite pastimes. Lying under my treasured feet takes you as low as you can get. An apt metaphor for power dynamic and an aphrodisiac like no other for us both. Mistress LOVES the sensation of a male "rug" under Her moving feet – your prostrate body, naked, vulnerable and laid out ready to be walked all over. Whether you favour the sensation of direct skin contact or nylon clad feet, I cater for all tastes. If you have more masochistic aspirations, I also have lots of heels awaiting your tender flesh in my wardrobe!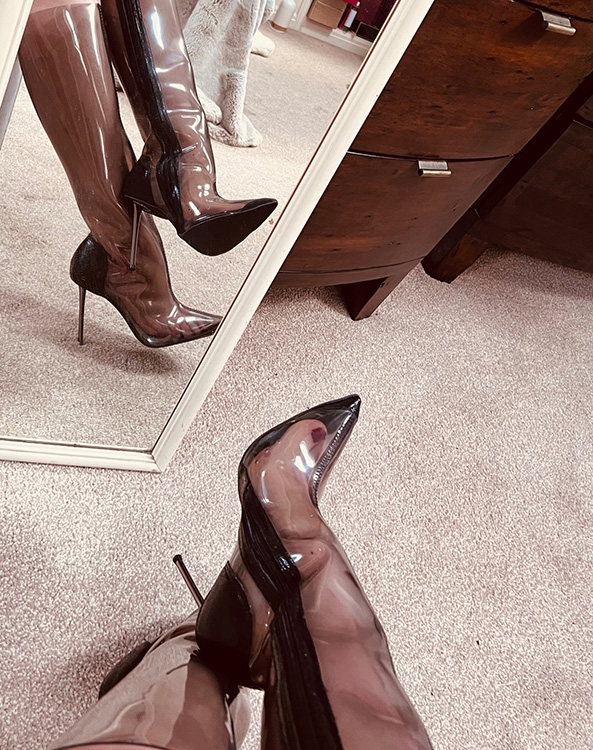 Please be assured, that as with every session activity, I deploy due diligence and your physical safety and well-being remains my priority.