An exacting and creative Fetish Mistress in Manchester. I develop with ease any fetish to a fever pitch. I'm the connoisseur's choice with many years of professional experience in my Manchester chambers. I am a truly insightful and adventurous spirit with a genuine relish for all I do. I'm here to make your fetish dreams a reality. I have very few boundaries, outside of what I consider unsafe practices (I will discuss these should I feel potential conflict at the outset). I pride myself on being unshockable and free-thinking.

When you come to Me, you will be made to feel your transparent self, free to express perhaps, long concealed desires. Mutual communication is the means for starting our journey. I encourage active and ongoing fantasy sharing with an aim for unrestricted and tailored fetish experiences. The type that you will find yourself replaying in your mind over and over again. I get a buzz from knowing your secret weaknesses. Sometimes it's an enjoyable process finding out for Myself, pushing your boundaries at My own pace and watching you squirm in anticipation and introducing new twists and turns into scenarios during session time.

Whether your erotic rush stems from a singular source of pleasure such as leather, hair, foot/shoe worship or multi-layered experiences, my fetish menu is extensive enough to cover all tastes. Think of me as the Michelin star gourmet equivalent!
Fetish Sessions at the House of Sheba in Manchester

Within My esteemed Manchester chambers, to add to the realism of your fantasy scenario,  I have designed and equipped several realistically themed fetish rooms. Each one painstakingly decorated, featuring the highest quality items of furniture and kit.
Medical Fetish Play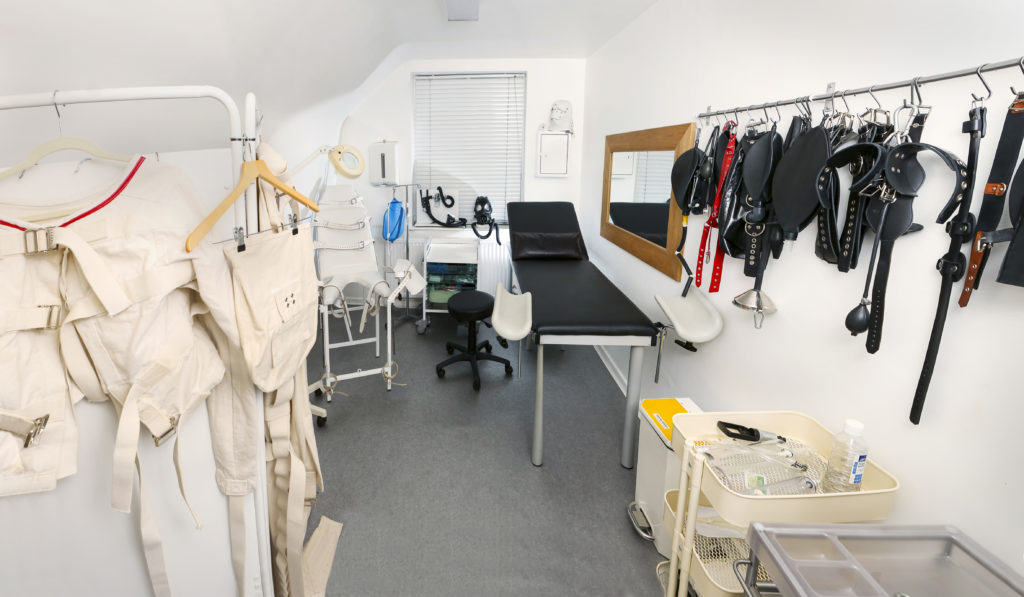 Is medical play top of your list? My authentic medical fetish suite has a genuine examination table, a Fetters gynae chair, bench, trolleys, medical screens and straitjacket. I also have a cabinet crammed full of evil instruments just waiting to be used on your helpless body. 

For those who crave hardcore BDSM content in a session.
I have settings and equipment to cover every imaginable merciless scenario. Pay a visit to my Medieval dungeon, where we can put your pain threshold to the test on my stretching rack. Or perhaps my sumptuous leather whipping bench, followed by a spell of bondage incarcerated in the cage. I'm always happy to get requests for time on my Venus 2000 Milking Machine. It's an exquisite experience that once tried is never forgotten.
Foot Fetish and Shoe Worship
As a professional Fetish Mistress, foot and shoe worship is one of my most sought after services. What could be more enchanting than wiling away the hours at my feet? Feel my silky stockinged feet rest on your back as you become my footstool. I may treat you to a little crawl on a leash, around the floor after me as I strut about the room in some of my favourite heels or thigh boots. 

Have I whetted your appetite for more information?