Shocked to discover that I've missed off Anal Play and Pegging as one of my specialities! Ah, well the website is a work in progress…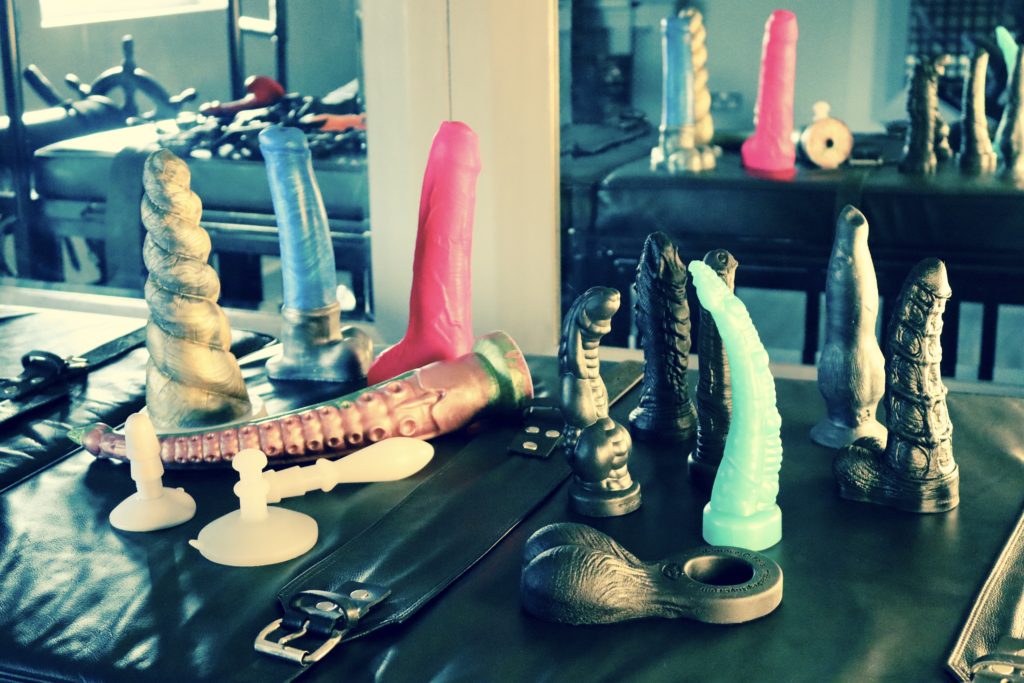 Anal play and pegging are definitely some of my favourite areas either as part of a session or ALL of a session.
I pride myself on my ability to safely cover the whole gambit from the virgin right through to the very experienced. Anal play is something I very much enjoy! I've got mountains of mouth-watering anal toys that I carefully select based on texture, composition, girth, depth,… I'm always on the lookout for new sexy items. Pictured above are recent additions to my Manchester Chambers. A pro-Domina can never have too many toys for anal penetration and exploration.
Always be Clean
Firstly, I always insist that you are clean for me: douches for light play such as fingers, small insertables and; for deeper play such as pegging, strap-on, fisting etc… an enema is a must. Having performed hundreds of douches and enemas I have the process streamlined and it is not something to be feared. I am very gentle. You will feel totally relaxed in my presence. I will look after you.
Insisting on cleansing has a number of benefits for you
1) They clean you out
2) They relax your muscles
3) You are not worried about accidents that will detract from your enjoyment
Novice
With a novice, I always start slowly and work my way up. I am keen to discover what you are comfortably able to take. Fingers are a good place to start, massaging your prostrate and then progressing to my anal balloon. The balloon is a particular dungeon-favourite as it is small enough to insert into the smallest of cavities and can then be inflated so that – even you- with your virgin hole may experience a wonderful sense of fullness. If you are progressing well then I sometimes reward with the smallest of my strap-ons or insertion of small electrical attachments which lead to an exhilarating experience – sometimes an O. (I will blog separately about Electrical Play. There is a common misconception that it is similar to receiving an electric shock. It isn't, if done correctly).
My aim is to always have you relaxed and comfortable when you are receiving. So, you might find yourself, legs akimbo in the gynae chair with your legs in stirrups, on my Bondage Swing, or over my specially designed bondage benches. We will find the position that best suits you! For the more adventurous you can expect to be taken anywhere!
Experienced?
If you have some experience, I have f-machine with many attachments, strap-on harnesses accommodating even my largest of toys, electro strap-ons, large electric butt plugs and many, many dildos. In addition to all of this I will quite happily place my elegant hand with my long tapered fingers into a pair of fisting gloves and turn you into my puppet.
It is probably important to mention that a number of guys that I have seen do not identify as anything other than a person who enjoys the pleasures that come from anal play i.e. they do not ID as either a submissive or a slave. I am fine with this – you are welcome to visit without that dynamic.
Where now?
If what I have written about anal play appeals to your curiosity or wanton lust and you would like to be taken on a journey of exploration then look no further. Come and find out why this is one of my most requested activities.
Mistress Sheba
Find Out More About My Sessions Here
Picture: grouped to the left is a small selection of my medium to large toys. Those white items are suckers. At times, I will admit, to enjoying sitting back and looking deep into the eyes of a man whilst he impales himself under my tutelage.
To the right: these are considered small. I have extra small items that inflate, vibrate and electrify.